Ladybird
L for Ladybird. Another in the series of Alphabet prints all created in a simple, playful illustrative style. Bold, stylish prints for Kids bedrooms and nurseries.
S is for Sunshine
Brighten up your wall! S for sunshine a bold statement from Lorna's Alphabet collection. Simple yet stylish.
We have our own Supermoon!
There are two full moons in March. The second full moon on 31 March is known as a Blue Moon. The occurrence of two full Moons in January followed by two in March takes place approximately four times every century. We are delighted to have our own super moon print from Lorna Freytag and a sneak preview of early concept work for Lorna Freytag's new personalised book "in Wonderland".
Alessia Laudoni combines classic YSL styling with flawless skin for YSL Touche Eclat
Team Credits
Photographer | Alessia Laudoni
Model | Laura Barth @ Fashion Milano
H & MUA | Valter Gazzano @YSL
Client | YSL Touche Eclat
Magazine | Elle
Cambridge Jones is cast for HBO's new TV series Succession
WATCH THIS SPACE
Cambridge is currently filming a guest spot on the new HBO series Succession….playing….errr….a celebrity portrait photographer!?
Great fun!
'I have been asked to bring some of my own jackets as potential wardrobe for my character….they must have been YouTubing my tv appearances in those very loud garments I sometimes slip on….note to agent – add costume hire to final invoice '
– Cambridge Jones
'Another early start another shooting day… Lovely crisp morning – view from my trailer'
– Cambridge Jones
Trailer for Succession below
BIRD BIRD BIRD, FEATHERED KIND OF BIRD
'Bird, Bird, Bird, feathered kind of Bird' is a personal ongoing project by Bronwyn Kidd.
I have spent many years looking through my lens at breathtaking magnificence and beauty.
I don't think I could take a photograph without there being magnificence or beauty.
'Bird Bird Bird…feathered kind of Bird' is a play on my usual subject matter, beautiful women… photographed in parallel. I have fallen in love with this 'feathered kind of Bird' and I will be eternally amazed by their perfection, detail, strength and majesty'
– Bronwyn Kidd
About Bronwyn Kidd
Bronwyn Kidd's photography is characterised by an unyielding dedication to elegance, precision and timelessness.
Bronwyn has created award-winning advertising campaigns and has portraits held in a permanent collection in the National Portrait Gallery London. She studied photography at the prestigious Royal Melbourne Institute of Technology before heading to London, where she landed assisting roles with the celebrated British photographer Clive Arrowsmith and with fellow Australian portraitist Polly Borland.
At 23, Bronwyn fell into the arms of the Queens Couturier Sir Hardy Amies, where she shot exclusively for his Savile Row seasonal collections using famed British model Paula Hamilton. Bronwyn's work maximises the utility of the camera and has a strong emphasis on the brilliance of creating light. With a career spanning over 20 years, Bronwyn Kidd is a modern portraitist.
'Bird, Bird, Bird, feathered kind of Bird' is a personal ongoing project.
New work from Seb Winter coming soon
Fierce colour painted on flawlessly sand-toned skin savage beauty battles bold primary colours for spring.
Photography – Seb Winter
Model – Hannah Kane @ Iconic
H&MUA – Catrin Kteyss @ Blossom Management
AOP50: Images that defined an age
An exhibition to celebrate the fiftieth anniversary of the Association of Photographers (AOP), the UK's leading membership organisation for professional photographers working in the creative industries. Formed in 1968, AOP is one of the most prestigious professional photographers' associations in the world, whose members' work is published worldwide in magazines, newspapers, books and advertising campaigns. Each year the AOP Awards celebrate the best in commercial photography.
To recognise this important milestone, this exhibition, curated by Zelda Cheatle, presents a collection of images that define 50 years of the AOP, selected to illustrate the impact, diversity and quality of work by its members since 1968, who have included David Bailey, Lord Snowdon, Barry Lategan, Patrick Lichfield, Giles Duley, Nadav Kander and Rankin. Their work will have been seen by the public the world over, from iconic images of celebrities and stars like Twiggy, in major advertising campaigns and countless car manufacturers, as well as documenting some of the world's turning points, including wars, famine and humanitarian disasters. Many of their images have defined a generation and helped to shape public opinion and create change.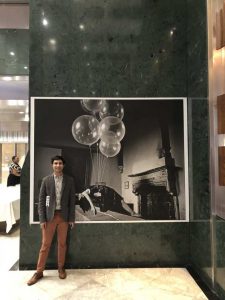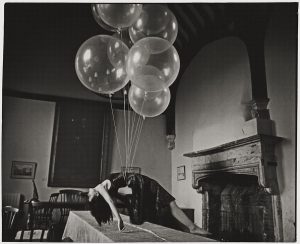 Vikram Kushwah with his selected image; Ofelea and the Flying Balloons, from the series Ofelea. The exhibition runs until 1 June 2018. More here.
Bronwyn Kidd and Creative Director Virginia Dowzer present OWLS & PUSSYCATS
OWLS & PUSSYCATS celebrates LOVE in all its forms and mirrors the magic, complexity and allure of relationships through reflection, layering and gender neutrality. In the original poem by Edward Lear the OWL, a bird of prey, is portrayed as male and the PUSSYCAT, also a hunter is portrayed as female. Our story is told by each and both exposing every angle and ultimately the impartiality of biological differences.
Shot in THE HOUSE OF MIRRORS, and starring BEN HANCOCK and MIKAELA JADE SCHREUDER the story, film and stills, is a collaboration between Bronwyn Kidd -Photographer/ director, Virginia Dowzer – Creative director and a team of Artists who collectively give insight into who they are and who they would prefer to be.. Owl or Pussycat?..
Owl & Pussycats video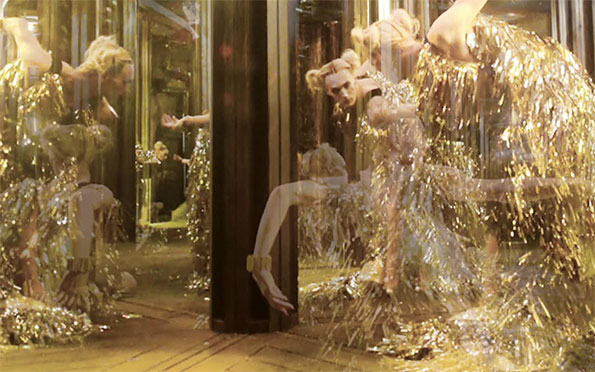 Credits
PHOTOGRAPHER / DIRECTOR – BRONWYN KIDD – BRONWYNKIDD.COM – @BRONWYNKIDDCREATIVE DIRECTOR – VIRGINIA DOWZER – VIRGINIADOWZER.COM – @VIRGINIADOWZEROWL – BENJAMIN HANCOCK – BENJAMINHANCOCK.NET – @BENDY_BEN
PUSSYCAT – MIKAELA JADE – @MIKAELAJADESCHREUDER
EDITOR – KATERINA BORYS – THE BUTCHERY – THEBUTCHERY.COM – @THEBUTCHERTEDITGRADING – KALI BATEMAN – KALIBATEMANCOLOURIST.COM @KALI.BATEMAN
VFX – POST PRODUKTIV – POSTPRODUKTIV.COM.AU – @POSTPRODUKTIV
GRAPHICS / END TITLES – RAFT STUDIO – RAFTSTUDIO.COM – @RAFTSTUDIO
MAKEUP ARTIST – CLAIRE LEIGHTON – CLAIRELEIGHTON.COM – @CLAIRLEIGHTONHMUA
HAIR ARTIST – XENEB ALLEN – CURLYSIOUXSIE.COM – @CURLEYSIOUXSIE
NAIL ARTIST – TROPHY WIFE NAILS – TROPHYWIFE.COM.AU – @TROPHTWIFENAILART
DIGITAL – STEPHANIE BRADFORD – STEPHANIEBRADFORD.COM – @STEPHANIEBRADFORDPHOTOASSISTANT – ARNAUD SZALAI – ARNAUDSZALAI.COM – @ARNAUDSZALAI
FASHION – SHENG XIANGQIAO – @REMY_SHENG
TARAN BATTYE – @TARANBATTYE
ANASTASIA LA FEY – ANASTASIALAFEY.COM – @ANASATASIALAFEY_ART_DESIGN – @ANASATASIALAFEY
SARAH HOPE SCHOFIELD – @SARAHHOPESCHOFIELD
SHOES – PRESTON ZLY – @PRESTONZLY
CHRISTINE – CHRISTINEACCESSORIES.COM – @CHRISTINEACCESSORIES
ACCESSORIES – CHRISTINE – CHRISTINEACCESSORIES.COM – @CHRISTINEACCESSORIESLOCATION – HOUSE OF MIRRORS
WITH THANKS TO CHRISTIAN WAGSTAFF AND KEITH COURTNEY – CREATIVEPRODUCTIONSERVICES.COM.AU – @CREATIVEPRODUCTIONSERVICES
Vikram Kushwah's emotive series of portraits called REGROWTH is featured in The British Journal of Photography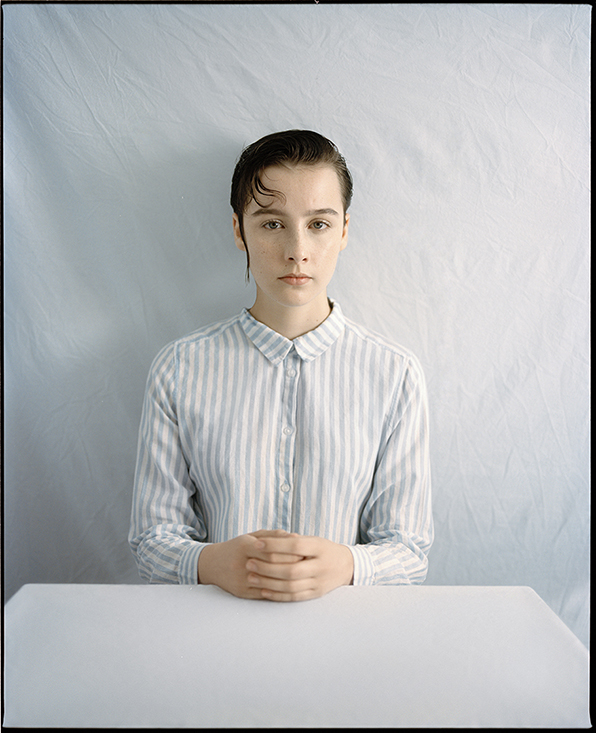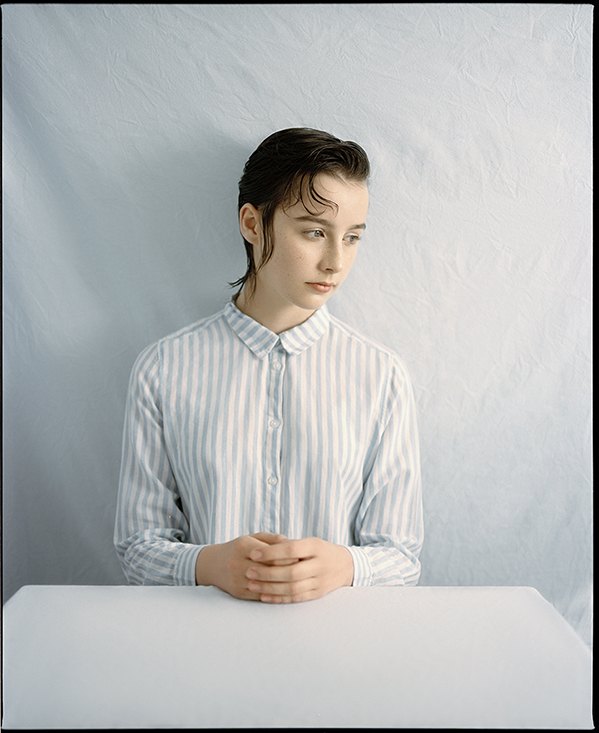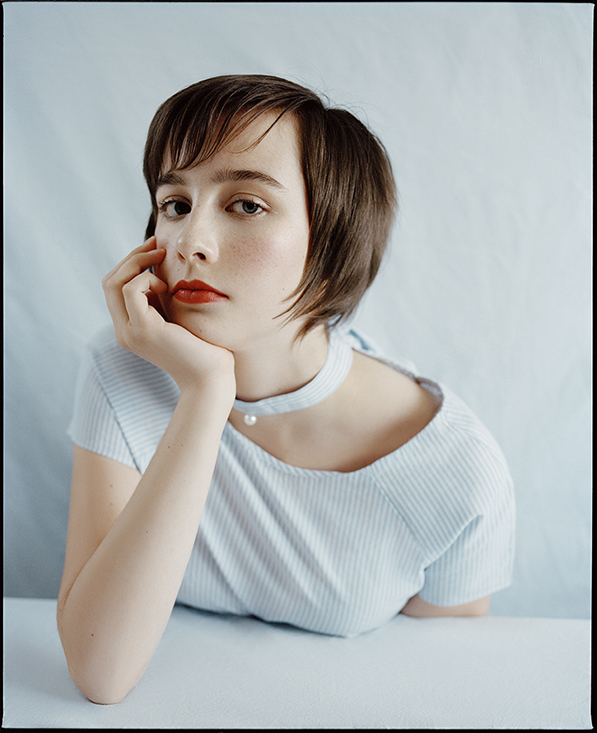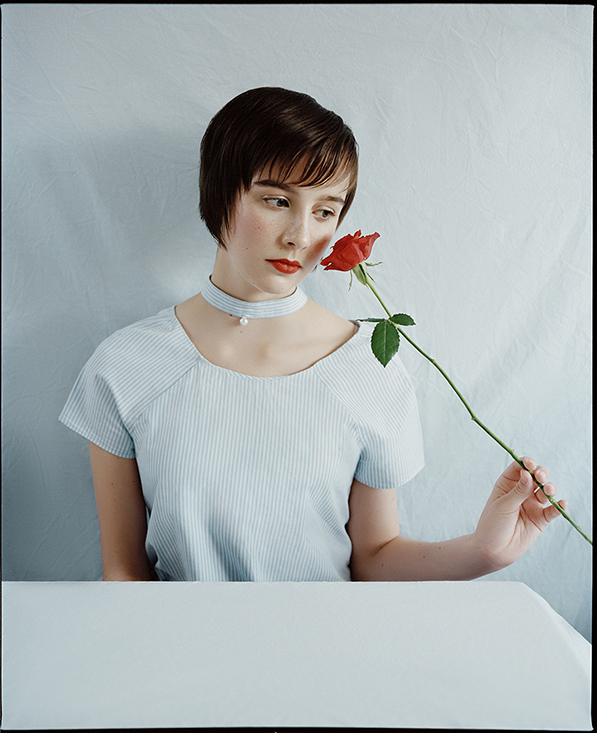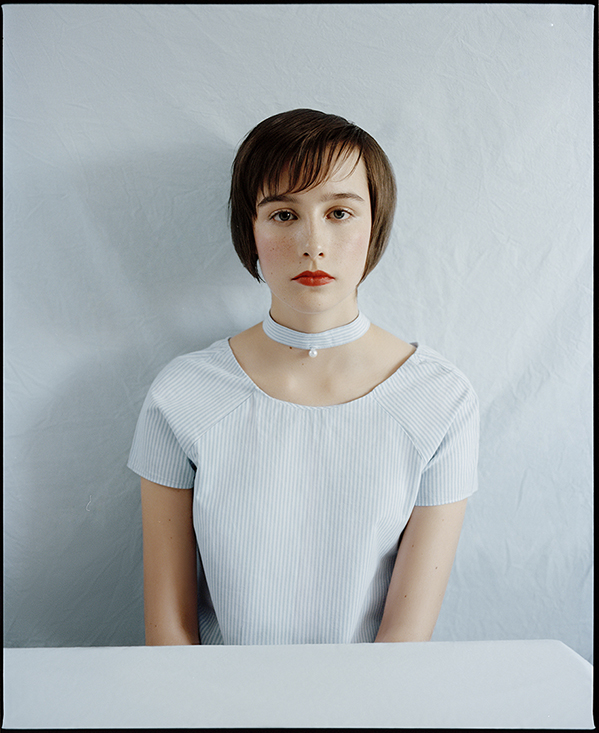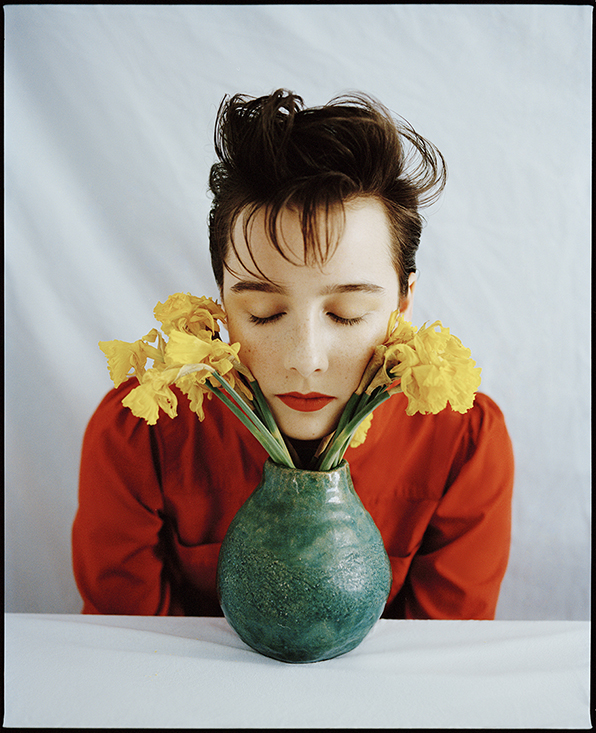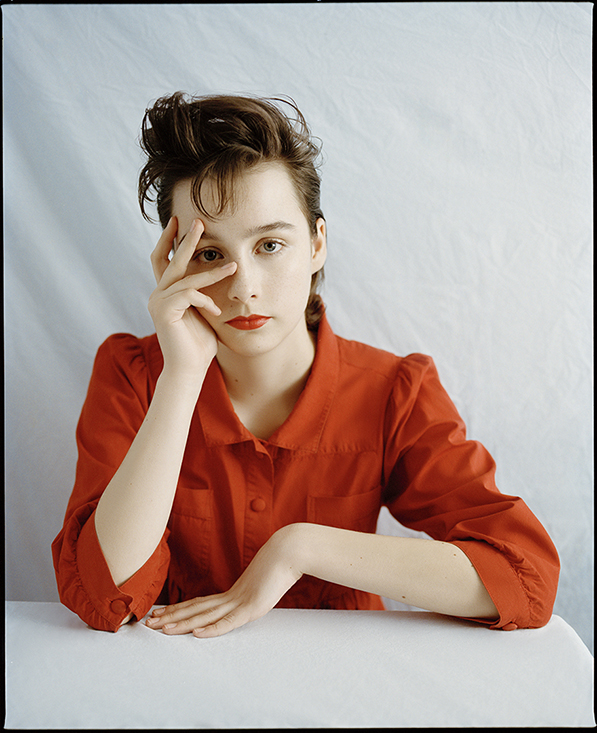 About the project
Jasmine, my subject for the series 'Regrowth', is the 14-year-old daughter of a friend. She is in her second year of cancer treatments. Prior to the illness, she had long, cascading hair, which was sacred to her, and was the subject of one of my earlier photography projects. Chemotherapy has now reduced her hair considerably and she does not step out without a wig. With all the complexities that come with teenage life, something as severe as this illness and its repercussions has made adolescence doubly challenging for Jasmine. These photographs show her will to move on, along with her tenderness and innocence. The series is about acceptance, grace, embracing the new, and celebrating life as it presents itself. Jasmine showed great courage confronting the camera with her new hair, her new identity. – VIKRAM KUSHWAH
Mother and Daughter from the portrait series Regrowth – read full article in the BJP here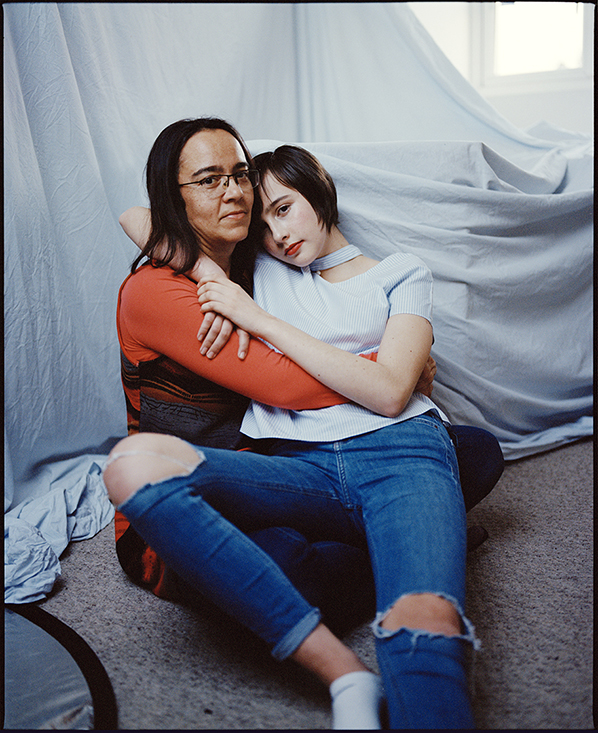 Alessia Laudoni Splendour in the House L' Officiel Indonesia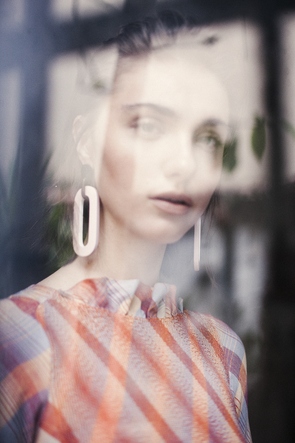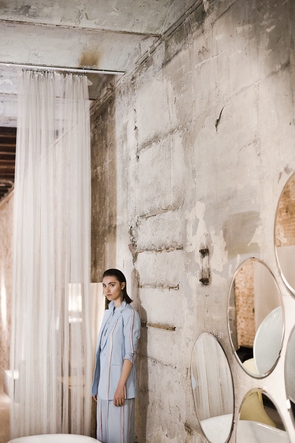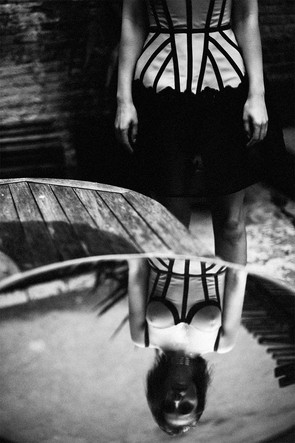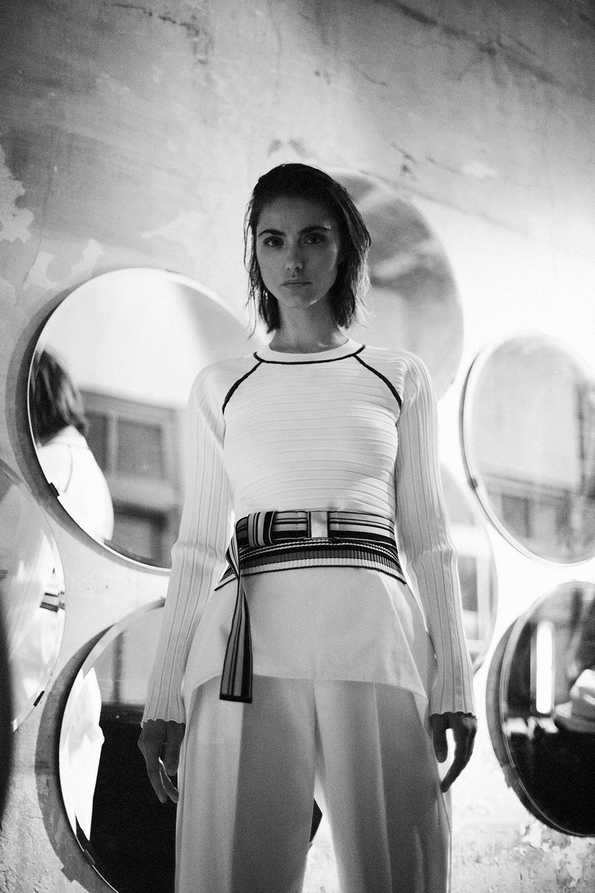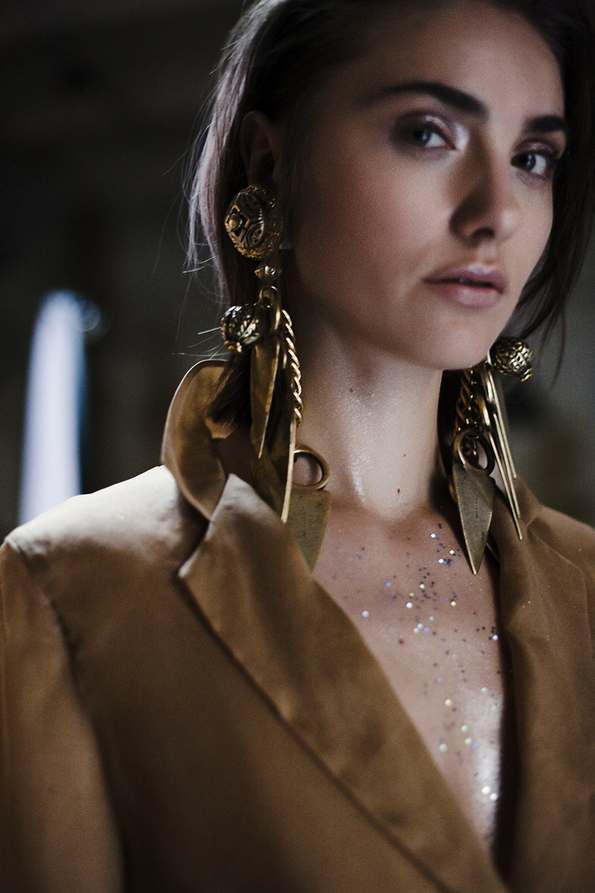 Team Credits
Photography – Alessia Laudoni
Stylist – Patrycja Juraszczyk
H&MUA – Noemi Nohales
Model – Cornelia